BevPopular

erage production line


for juice/tea/protein drinks with CE certificate
characteristics
Production Line Range: Undertake the whole conveyor after the filling machine/capping machine and packaging production line;can design for the client with the production line layout, packaging, palletizing and other forms;to provide customers with competitive packaging solutions.
Production Line Type: Bottled Juice/Tea/ Protein Drinks/ Carbonated Drinks production line.
Production Line Equipment:Bottles / case conveyor system, electrical control system, Inverted bottle sterilization chain, Cooling / temperature spray tunnel, air-drying equipment, shrink film packaging machine, carton packaging machine, palletizing machine, etc;
Optional Equipments:finished product testing, labeling machine, inkjet printer, etc.
Production Line Capacity:6000 bottles / hour to 52,000 bottles / hour.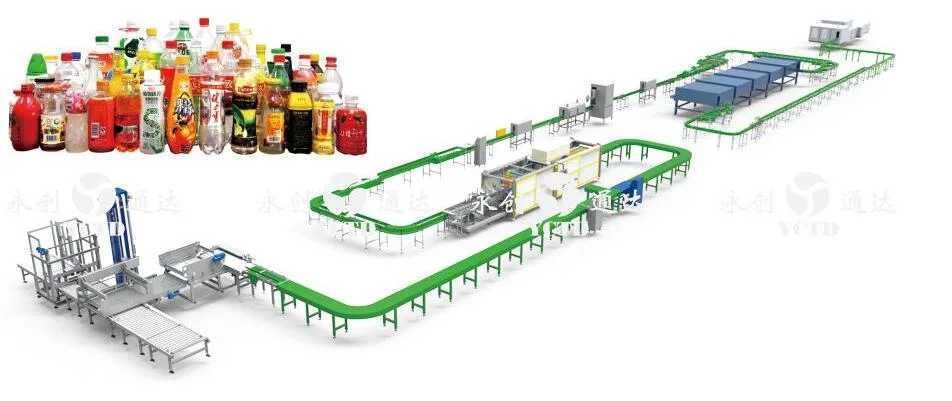 production display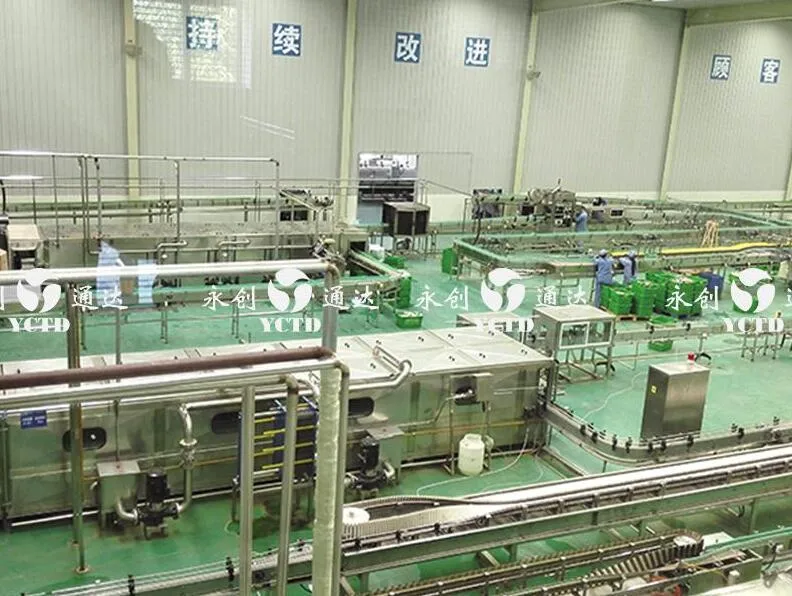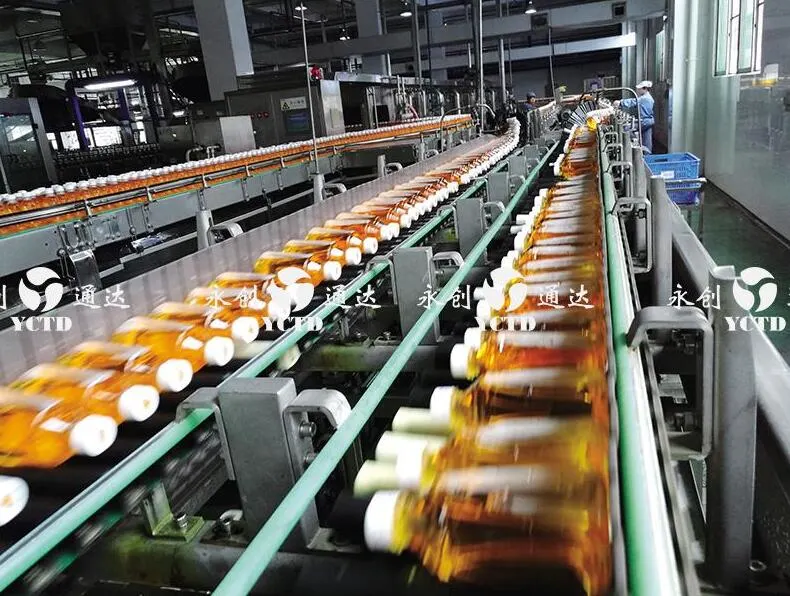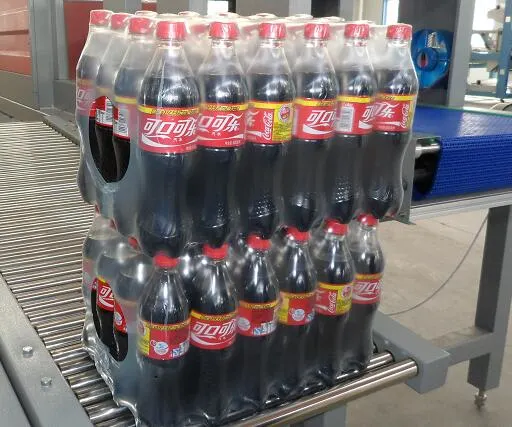 our factory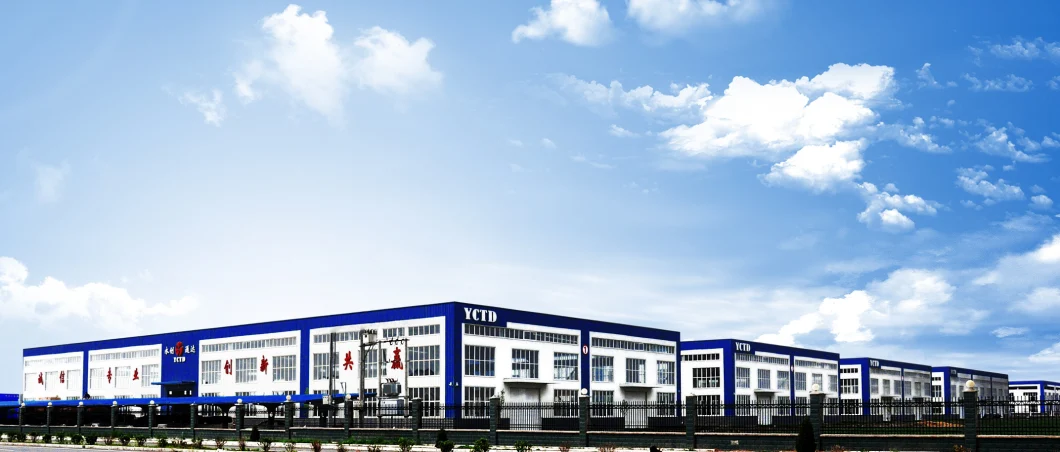 our team and service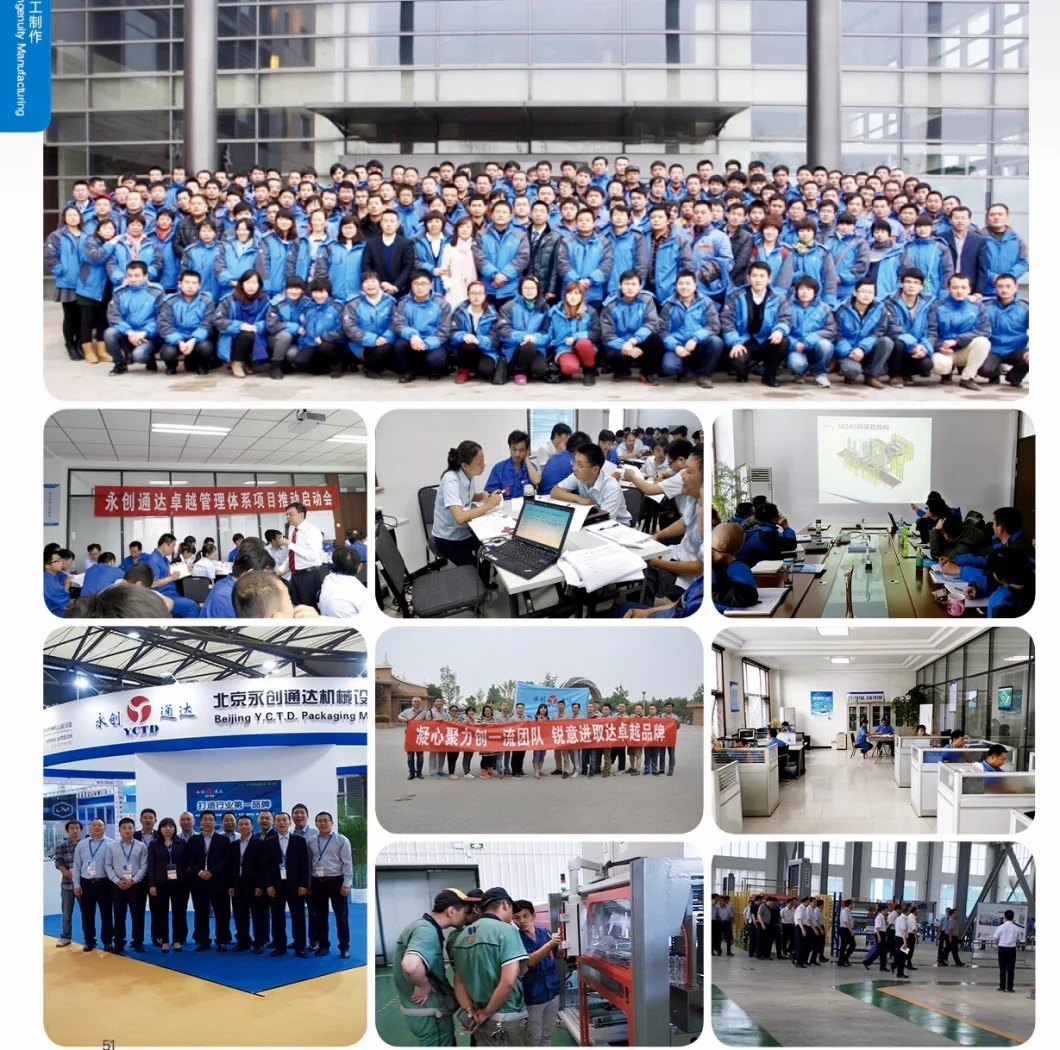 Beijing YCTD Packaging Machinery Co., Ltd. is a highly innovative and technologically driven enterprise, which focuses on secondary packaging for beverages. our brand was established in Daxing district, Beijing in 2001. our company has more than 350 full-time employees, including more than 60 distributed amongst R&D teams; more than 60 in customer service and after-sales engineering. Our company has total control over research & development, product design, manufacturing, and services pre- sales and after-sales. We are the number one professional back-end whole line project solutions provider in shrink and case packing; palletizing and conveying system machines
YCTD has met all the requirements of not only the ISO9001:2015 international quality management system certification but also the European CE certified national safety standards, and our company is in possession of several national packaging equipment patents.
Our products can be seen supporting an assortment of beverages including beer, soft drinks, fresh and mineral water, fruit juice, dairy products, condiment and many more. With years of successful collaboration with other well-known enterprises, our company has proven itself to be a reliable partner, one that has earned the trust of the consumer. Our high-tech product is of such a high standard that it is recommended by many customers downstream in the packaging industry.
As one of China's largest secondary packaging equipment manufacturers, YCTD insist on strategies: concentrate on the beverages industry; on secondary packaging; and steady developments in technological innovation We offer the majority of users high-quality products and first-class technical service. Committed to packaging technology development, we are a mainstay in an industry representing the very best in Chinese ingenuity. With high quality products and thoughtful service we have earned worldwide respect and won a lion share of the market, in which we compete. The quality of our product has always been what has defined us and made our enterprise one of China's very best.
Let YCTD help innovate and package your products to new profit potential! With our 18 years of dedicated research and development and mastery of the core technology, Beijing YCTD has become a reliable back-end secondary packaging provider, cooperating with partners of well-known brands at home and abroad, such as Huiyuan group, Coca-Cola, Pepsi, Dali group, Wanglaoji, Cestbon, Ganten, Uni-President Group, Master Kong, Hon Chuan, Harbin Pharmaceutical Group, JDB, Red Bull, Eastroc Super Drink, Qinghai Jingdu, Quanyangquan, Watsons, Xinjiang Glacier just to name a few.
Beverage back-end whole line projects; shrink packing machine, case packer, palletizing machine and a whole line of other products have been exported to more than 60 countries and regions in North America, Europe, South America, Asia, Africa, the Middle East and so on. Our reach is truly global in scope; our brand is so in relevance.